Jean-Francois Hache (January 10. 1730 – August 19. 1796) was a member of a famous dynasty of 18th century cabinetmakers that included his grandfather, Thomas, and his father, Pierre. The Hache family played a major role in France for over a century.
Jean-François Hache (1730-1796) is probably the most famous of the Hache craftsmen. In 1756 Jean-Francois made a four-month stay in Paris, where he was very much influenced by the Louis XV style and particularly by the work of Jean-François Oeben.
Jean-Francois was also known for his mosaic inlays, and bold and unusual geometric inlaid forms. Throughout the eighteenth century the workshops of the family Axe were recognized as the most talented craftsmen, cabinet makers in the region, working exclusively for larger families. Today, the pieces of furniture made by the Hache family are in high demand.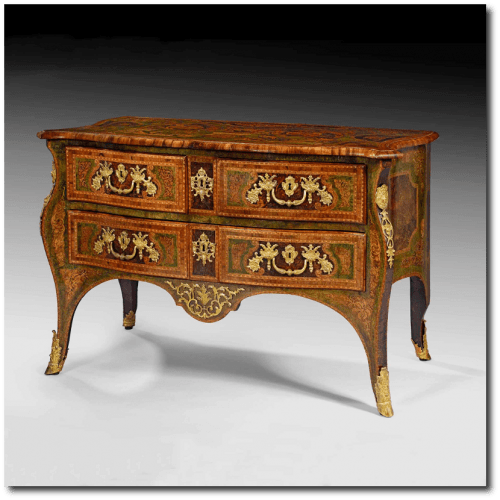 This commode is the master piece of Pierre Hache. Built towards 1730, it announces the end of the Regence style, and the beginning of the Louis XV era. Its strong serpentine lines are inherited from the Regence, while the harmony between the marquetry décor influenced by Italy and its ormolu mounts is typical of the Louis XV period. Featured on Galerie Perrin
Check out more pictures of Jean Francois Hache's work here.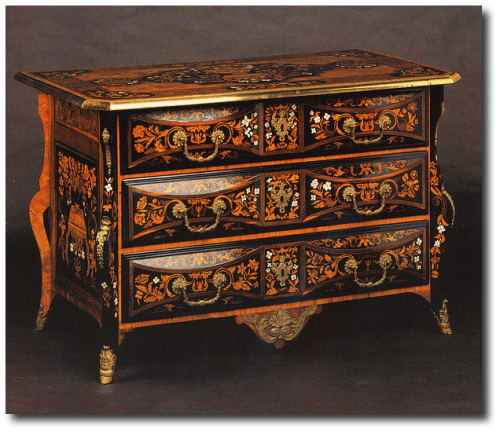 Louis XV Furniture -Jean Francois Hache