When we think of French interiors, we think of pale blue, gray and white, yet French decorating isn't just one a one-color palette. Pink, salmon, and coral are often associated with the Rococo period and was in fashion until the end of the 18th century. Today we don't see many interiors based on these colors alone, and I ask myself why? Pastels are some of the most beautiful colors that a person can work with, and yet most of us gravitate towards the neutrals such as the gray and beige tones. I think for the most part, many of us are scared to use color, because we don't know how to incorporate color.
The Rococo developed in the early part of the 18th century in Paris, France as a reaction against the grandeur of Baroque where most of the pastel tones came into fashion. If you enjoy the bold shades of scarlet, cerulean, pacific blue, or shamrock green, consider working with the sibling colors such as seashell pink, peach, sea green, mint and sky blue as your main color shade in your home, while incorporating the bolder colors with accessories. The combination of pale blue and coral are great matches for one another.
One of the very best examples of 18th Century designs which uses a coral and pink combination is the late Dodie Rosekrans apartment in the Palazzo Brandolini.
The ballroom of the Palazzo Brandolini was decorated by Tony Duquette and Hutton Wilkinson. The shades of gray and white were seen accented in the relief art and plaster ornaments.  The walls are a shade of pink coral, and bold red coral pops against the pastel tones of pink on the walls.  If you look closely the wall ornaments are shades of oyster gray and white, which is a perfect combination for the color tones of mango and copper.
The other example is the ceiling arches in the Royal Arcade in London.  Brighter orange is paired with peach and gray ornaments.  The look is amazing.
–Go Statue On Ebay is the number one place I purchase my molds.  I have found so many great designs that could work on the wall from this store.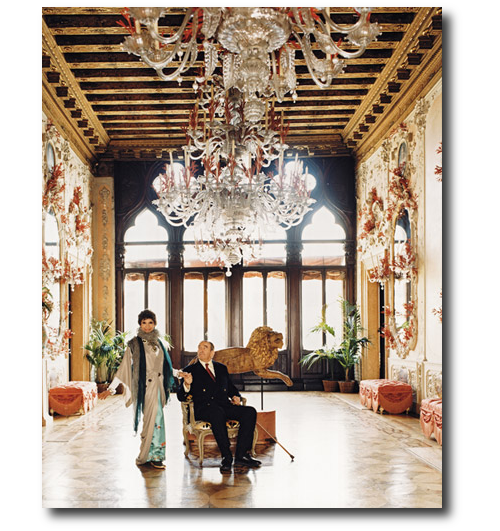 Dodie Rosekran's Apartment In The Palazzo Brandolini
Antique Pair of Louis XVI Style Bergères Jean-Marc Fray French Antiques
A Pair of Venetian Rococo Painted and Gilded Marble Top Consoles, each with serpentine top, scalloped shell and floral carved skirts, flared floral carved knees From The Neal Auction Company
Quick Tips For Working With Pink, Orange and Coral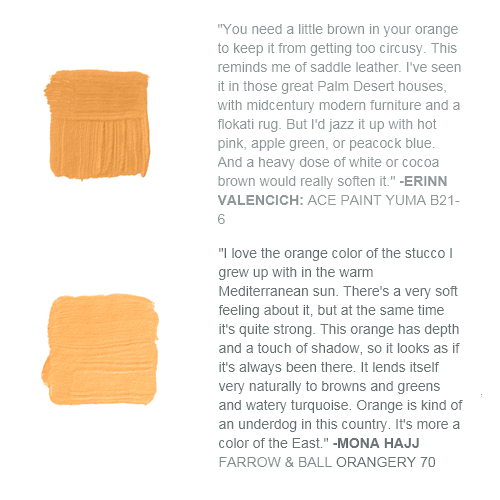 12 Best Shades Of Orange From House Beautiful Magazine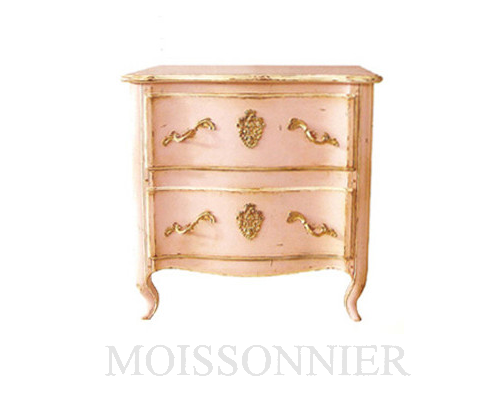 Moissonnier furniture offers you copies of 17th to 19Th Century Antiques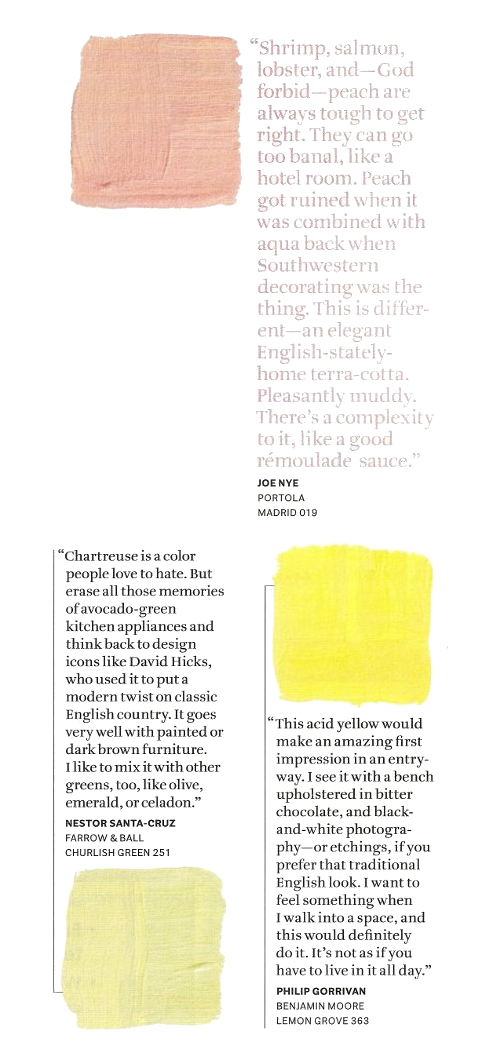 House Beautiful Magazine – The Paint Issue
6. Rethink pink as an accent color in your house that you can showcase in different ways, other than the wall color. China is the perfect way to display brighter colors.  Line them up on your wall using plate hooks. Throw pillows are great ways of adding pops of color on your sofa and beds.  Lamps can be painted, and custom shades with fabric to match your interiors can be customized.  Painting furniture is the best way to incorporate several shades of color into your home.
7.  Paint your walls a shade of mango, and layer in frames in copper or gold.  Consider painting picture frames a burnt ochre orange, with picture mats that match the wall color.  In this picture you see several shades of orange, and a brass pitcher makes a nice centerpiece.
-If you plan on working with a bright color, consider accenting it with either copper or brass.  It is amazing what either metals will do for tones of pink or coral.
-Traditional Colors From The 18th AND Early 19th Centuries-A Selection of Oranges
-Traditional Colors From The 18th AND Early 19th Centuries-A Selection of Blues
-Annie Sloan Chalk Paints –Antibes Green, Barcelona Orange
-The Best Antique Framed Mats.  – Get The Look For Your Walls
8.  The paler pinks are feminine and pretty, while the more intense shades such as raspberry, are dramatic and exciting. Shell pinks find their true complementary shades in the pale, blue-greens, but also work well with the lighter shades of blue and lilac.  Use the stronger colors of such as scarlet, Persian red and crimson as accent colors.
9.  Color-washing the walls is an excellent way to tone down a bright color on the walls.  Light gray, or pastel yellow can produce a mottled effect against a bright tone on the walls.  The faded, sun-bleached corals also look great on exterior patio walls with terracotta floor tiles and plant holders to give a Mediterranean look.
10.  Shocking pinks aren't always the easiest colors to decorate around, although they work really well teamed with pastels in the same color tone and greens. Fuchsia pink works nicely with accents of apple green, warm golds and coral pinks.  Raspberry and mulberry shades work well with pastel shades. Pale shades of bluish pink are a excellent choices for bedrooms, while the boldest, vivid colors tend to work best on accent pieces such as a painted console table, china on the wall, or seen in paintings with several other pinks combined.
Austria From Gotta Start Holiday Blog